It's a cold, dark, grey day and our normally glistening vibrant school feels a bit like a prison. True, the oppressive weather outside casts a long drab shadow of gloom upon all the buildings. True that tired students and staff are struggling to stay inspired as May begins her long trek up the summit to the end of the year, but it is what is happening inside that reeks of anachronistic, uninspired schooling. We are witness to the type of behavior that should make progressive educators want to jump out their windows. Yes dear reader, it is exam week at our school for Grade 9, 10, and 11.
Rather than watching excited students work toward personal goals and interests, I am watching gangs of anxiety-ridden zombies walk the campus cramming their brains with notes for exams. People on Twitter, reminded me that exams do have real life benefits, and I can see that, but I guess in my dream school exams either don't exists, and if they do, they should feel very different than what I felt today.
I don't know enough about the grade 12 IB Exams, so I will not write about that process here. What I do know is that at this moment, my grade 10 students are sitting in rows and taking an English exam in order to prepare them for the DP exams they will soon be taking. An exam, I was in a way forced to give them. I suppose, I could have fought back a bit more and at least asked why I need to give this exam, asked if we could opt put, but I took the path of least resistance. My colleague and I decided to simply turn the assessment we had already planned into our final exam. Students were to write a formal letter to a magazine editor, pretending to be a WWI poet, and explain why their poems should be published. They were to focus on persuading the editor of the value of their work in terms of theme, style and literary devices. Your basic critical analysis and articulation of understanding essay.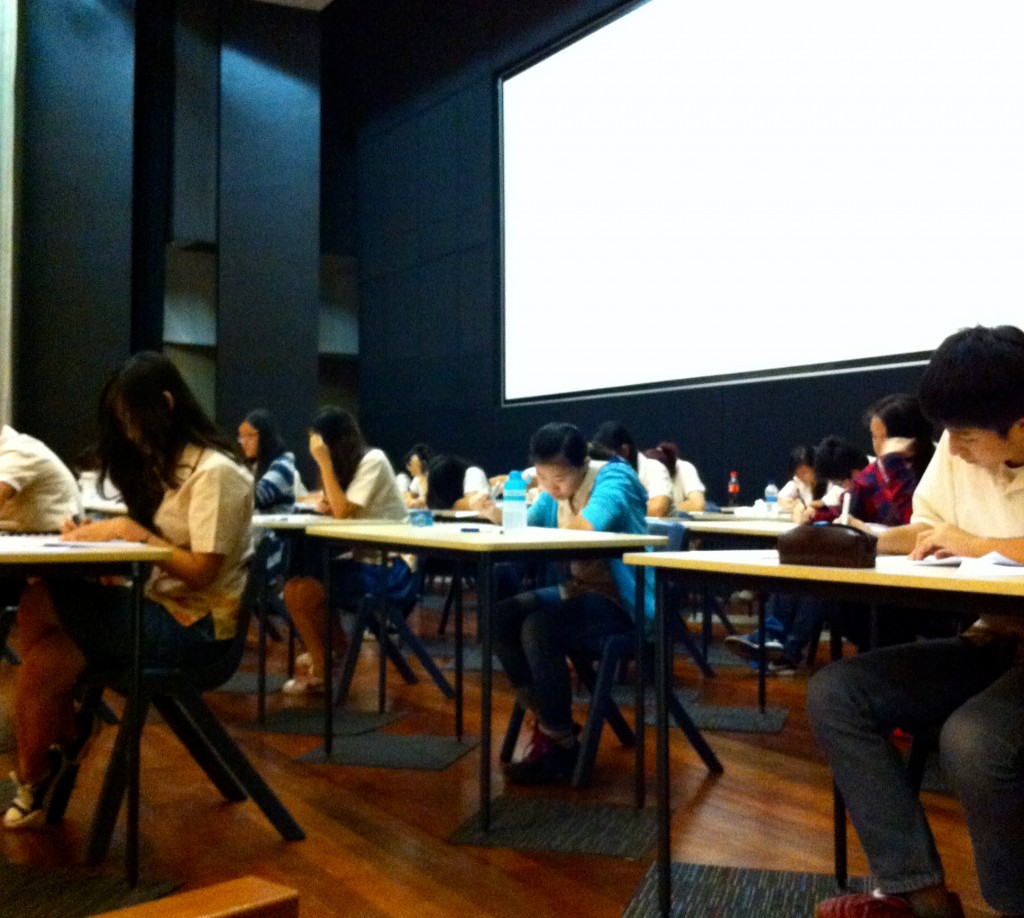 As I write this post and chat with people on Twitter, I realize I am not sure where I am going with it. I do not have any concrete ideas, and I do not want to be hyper-critical or rant about something I myself am confused and unsure about. So as always, I am throwing out some half-baked ideas in hopes that people who are more experienced and knowledgeable and have better formed ideas on exams and assessments can help me paint a clearer picture.
The crux of my frustration is the lack of student ownership and engagement that comes from exams and assessment in general. The assessment I described was created by teachers. So whether presented as an exam or as a project, it still lacks authenticity.  I am starting to realize that this lack of student input in most school decisions is what frustrates me about most aspects of school. I am just as guilty as most teachers. I plan units with my peers–complete with guiding questions, assessments, rubrics and more, but seldom do I bring student voices into the process. It is not that I don't want to, or that I do not know how. I often feel that I am part of a system that doesn't have time for this sort of student driven curriculum.
I totally understand that as a team, we are working hard to create a working curriculum, and as a new school, sometimes we just need to have a functioning scope and sequence. I am amazed and very proud of the work our English department has done this year.
We have created a 6-12 scope and sequence, basically, from scratch. Our units are diverse, media rich, interesting and show a great diversity of assessments. We have begun to integrate authentic use of technology and have achieved a nice balance of genres and content. We have done our best to identify clear and useful significant concepts, Approaches to Learning, guiding questions and more. In short, our department has done a wonderful job of collaborative planning to create a functioning and engaging curriculum in a just under two years. This is no small feat. It is a first step. I get that. I can appreciate that. I see its value. We have created a functioning curriculum? So now what?
Where are the students in this model? How do we give students more of a say in the planning of  curriculum? How can we empower them to create assessments that make sense to them and showcase their skills and understanding? How can we give them ownership of these units.
This lack of student ownership in planning the curriculum is my biggest frustration with the idea of schooling. I have ideas about how to change my own planning, but when working with a team, how do we make these changes? Do students even want this level of engagement, or do they just want to go to class, be told what to learn and how to learn it, take the exam and be done with it?
These are some random thoughts on a grey Monday during exam week. Any thoughts would be welcome:
How do you involve students in the planning process?
What are your thoughts on exams?
How do exams work at your school?