Free human dialogue, wandering wherever the agility of the mind allows, lies at the heart of education. If teachers do not have the time, the incentive, or the wit to provide that; if students are too demoralized, bored, or distracted to muster the attention their teachers need of them, then that is the educational problem which has to be solved- and solved from inside the experience of teachers and students.
Theodore Roszak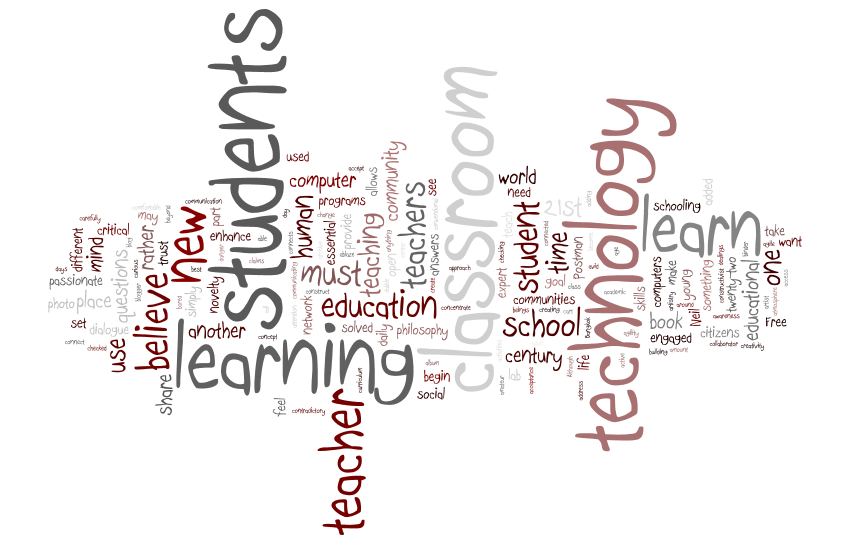 Key words:Learning, Students, Classrooms, Technology, and New
I believe in building communities of learners. I believe in free human dialogue and the wanderings of agile minds. I believe in trust and inspiring students and providing them with the academic and social skills that will enable them to fulfill their human potential as responsible global citizens.
Education should heighten student awareness and engagement in social, environmental, and intercultural activities, and that technology should be used as a meaningful and effective part of this educational process.
Human beings learn by sharing. We learn by communicating. We learn by being honest in our dealings. We learn through expression. We learn by being open and passionate and curious. We learn when we are engaged and involved.
My name is Jabiz Raisdana. I am a teacher, a father, a husband, and an artist. I am an avid reader, writer, blogger, and photographer. I dabble in amateur filmmaking and strum the guitar now and then. I am here to share my thoughts on education in hopes of finding employment at a school that shares my educational philosophy.
My philosophy is a simple one, and in this age of jargon, unfortunately not an original one; I want to provide an inquiry-based, constructivist approach; teaching students how to learn by instilling processes for lifelong learning. My goal is to instill a sense of didactic expedition.  I want to empower students to not only seek answers, but be able to raise essential questions, by creating less of a classroom and more of a community, a place where both teacher and student set forth to share knowledge and increase understanding. As a life long learner myself, I hope to learn as much from my students as they learn from me. An atmosphere of trust and acceptance is essential for learning. I strive to construct a community where students feel comfortable expressing themselves and exploring the world around them.
My goal is to make learning enjoyable for all students through creativity, artistry, and a love of learning. I utilize technology as a tool for learning, and I am open to new teaching possibilities. Although I believe in, and often defend the use of technology, I do not feel that simply integrating technology into a stale classroom will magically engage students.
On Technology:
The 21st century school cannot rely on trite snake oil sales pitches about the magical powers of school- saving technological tools. A school is only as successful as its teachers and learning communities. In a healthy environment, web 2.0, 21st literacy skills, and hardware tools such as one-to-one laptop programs may enhance learning, but no amount of technology will ever replace best practices and passionate dedicated teachers willing to take risks and connect with their students face-to-face.
Gone are the days of a few scattered computer labs designed to "teach" students computers. The 21st century school must transform the very concept of the classroom into the recording studio, the photo processing center, the communication hub, the connected writing community, the virtual library. The 21st century classroom must be a place to network, to create, to publish, to share. The new classroom is not set up in rows with the teacher as expert, occasionally deeming it time to "use" technology; the new classroom is a place where the teacher guides the students in developing their own critical questions and lines of inquiry that engender real-world, active learning. The new classroom does not integrate technology into an outdated curriculum, but rather infuses technology into the daily performance of classroom life. Technology is not a supplement, a novelty added to enhance classroom learning; the use of technology in the classroom just becomes part of the learning itself.
In this new classroom, the teacher is not the sole expert or the only source of information, but rather the teacher is the lead member of a network—guiding and facilitating as students search for answers to questions they have carefully generated. There is little danger of a student surfing the net or using Facebook while the teacher is instructing because in the new classroom the student is engaged with his or her own learning.  So the twenty-two laptops are being used in twenty-two different ways on any given day. One student may be updating her blog, while another is checking to see if her peers in Bangkok have added anything new to Twitter, another may be editing her podcast on Garageband and adding it to a wiki, while still another is setting up a Skype call with a collaborator in a different time zone. It is important to note that some students may be quietly sitting in the corner engrossed in an old fashioned text.
Daily and total access to computers allows students to realize that technology is not something they "do" when they go to the lab or when the teacher has checked out the laptop cart, but rather technology is something they can use everyday in class to help themselves learn. In this new classroom, students will begin to understand that their computer is not simply a novelty to take notes with, but it is their binder, their planner, their dictionary, their journal, their photo album, their music archive, their address book. In short, they begin to see how to use their machine and the world that it connects them to as any professional adult does. It no is no longer a toy, but a necessary part of their learning.
Here is a great quick speech given by Chris Lehmann that pretty much sums up my thoughts!